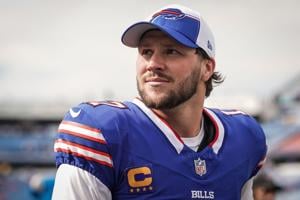 It used to be checkdown was a dirty word to Buffalo Bills' fans in reference to their starting quarterback.
It suggested a lack of arm strength, lack of fearlessness and a lack of talent.
To start this season, however, Josh Allen's ability to find easy completions in the short passing game has been an early encouraging development.
Allen was 25 of 27 on passes fewer than 10 yards past the line of scrimmage in the Bills' demolition of the Las Vegas Raiders Sunday. All that efficiency helped the Bills roll up 29 first downs and hold the ball for 40 minutes.
"It wasn't just go out there and find checkdowns, it was still being me," Allen said after the 38-10 victory. "Let our guys make some plays, and our guys did make some plays."
Indeed, most of the shorter completions were not last-resort unloadings, they were quick daggers that led to yards after catch.
"Eight or nine different pass catchers … and with the ball in their hands and different areas of the field," Allen said, "you kind of got to defend it all, and it's tough to do."
Through the first two games, Allen has 48 completions inside of 10 yards from the line (24 a game). That's almost double what he averaged (13 a game) over the last 10 regular-season games of last year, when "the easy button" was largely missing from the Bills' attack.
The 29 first downs were tied for fifth most in Allen's 78 games as a starter. Allen has completed 76.9% of his passes through two games.
Here's a position-by-position review of the game, based on video review and scored on a scale of 0 to 5:
Quarterback (5.0). It was good to see Allen hang in the pocket for tough completions. One was a 17-yarder to Stefon Diggs when he was looking to Gabe Davis over the middle but pumped when he saw a safety in the way. Another was the 11-yard TD to Khalil Shakir five plays later, a sidearm flick with the pocket collapsing. One of the many frustrating moments for the Raiders came when they schemed up a free-rusher (Nate Hobbs) on a six-man blitz, but Allen just brushed off the 195-pound cornerback and hit Dalton Kincaid for 8 yards.
Running back (5.0). James Cook had four gains of 14 yards or more, with 159 yards from scrimmage. And he picked up a few blitzes well. With 74 offensive plays, the Bills were able to rev up their three-man running back committee. It was also good that the Bills made the Raiders respect the run out of 12 personnel, with Kincaid on the field. Latavius Murray followed a double-team block by Dawson Knox and Kincaid for an 8-yard gain near the goal line. The two TEs secured the edge on a 16-yard run by Cook, and they double-teamed Malcolm Koonce on a 9-yard Damien Harris run. Harris also showed good vision on an 11-yard third-and-3 draw play. He saw Maxx Crosby take an inside rush and bolted off tackle.
Receivers (4.5). Diggs produced 91 yards, if you count a 25-yard pass interference foul he drew from Hobbs. Davis had six catches. He had only one game last season in which he had as many as six catches.
Offensive line (4.5). The Bills' quick passing game was well schemed to help neutralize star pass rusher Maxx Crosby. Spencer Brown did a good job vs. Crosby, yielding no sacks and four hurries, but the Bills got completions on three of those plays. With veteran edge rusher Chandler Jones out due to personal reasons, raw rookie Tyree Wilson had to play and got erased by Dion Dawkins. The interior of the line was rock solid.
Defensive line (5.0). Ed Oliver played the way the Bills need him to play, starting with a tackle for loss on the Raiders' first snap, when he pushed guard Greg Van Roten back into Josh Jacobs. Oliver had three run stuffs and two hurries in the first half. DaQuan Jones got pressure on the first interception, as did Greg Rousseau, who used his 83¼-inch wingspan to deflect the ball. Rousseau was a monster against the run again. The Bills' defensive linemen should be fresh for Washington next week. Jones played only 17 snaps, his fewest in a game as a Bill. Rousseau played only 24.
Linebackers (5.0). Terrell Bernard showed some of his athleticism by making the diving interception of Jimmy Garoppolo's screen pass for Ameer Abdullah when he dove and caught the deflection by Rousseau.
"I was manned up on the running back, Matt was blitzing," Bernard said, referring to Matt Milano. "Once I saw screen, I went to the back. Greg made a great play. … To make an impactful play and set up the offense for a score it's definitely a blessing."
That blitz was one of only three rushes of five or more men in the game by the Bills. With the game under control, the Bills didn't have to show much of their blitz arsenal.
Milano showed his ball skills as a former high school safety with his interception over Jacobs. It was Milano's third pickoff in the last three regular-season games.
Defensive backs (4.5). The Raiders were without slot receiver Jakobi Meyers, and Taron Johnson locked up Hunter Renfrow. Johnson was fooled while playing a linebacker role on the end around for 34 yards, one of his few missteps. On Milano's interception, Garoppolo wanted Adams, but Johnson blanketed him on a crossing route, with help over the top from Micah Hyde.
One knock on Garoppolo is he doesn't stretch the field well. He had the fourth lowest deep-attempt rate in the NFL last year among starters. He had only two attempts of 20 or more yards. On the longest one, Christian Benford recovered and did well to look back for the ball to avoid a pass-interference penalty against Tre Tucker, who caught the pass out of bounds.
Special teams (4.0). Sam Martin boomed a 54-yard punt with a 4.64-second hang time and took a big hit on it from Koonce. Siran Neal and Dorian Williams had seal blocks on Harris' 41-yard kickoff return.