Red Sox
Shohei Ohtani could sign the priciest contract in MLB history this winter.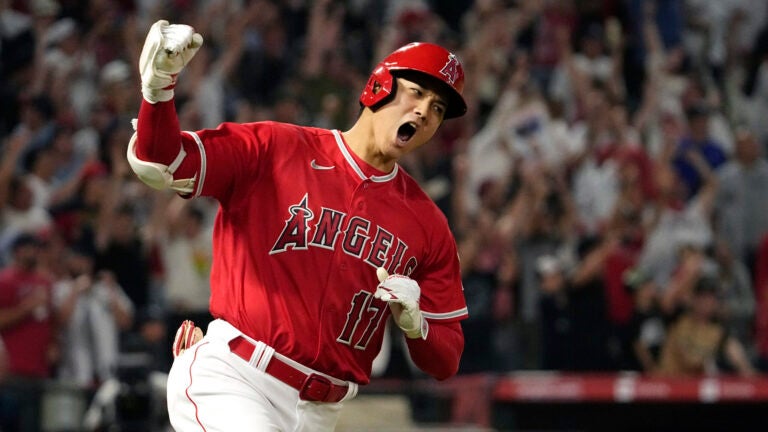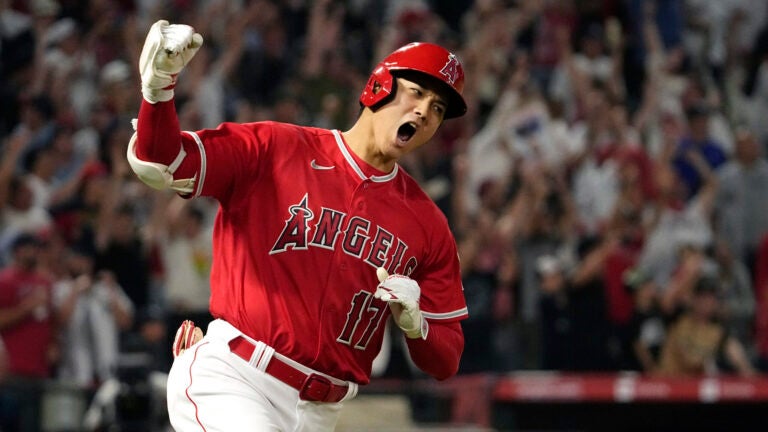 COMMENTARY
Changes are coming for the Red Sox this winter.
With Boston coming off of a last-place finish for the third time in four seasons, Craig Breslow and the Red Sox need to make a splash (or two … or three) during the offseason to shift the narrative around a team marred with inactivity and lackluster returns out on the field.
And if the Red Sox are willing to open up their checkbook in search of a splash, you can't get any better than Shohei Ohtani. 
The 29-year-old megastar — fresh off of a second AL MVP honor in three seasons — is primed to land the heftiest contract in MLB history, if not in all of North American sports. 
Ohtani's value might be marred in 2024, considering that an elbow procedure will preclude him from pitching all year. But even with a season kept off the mound, it wouldn't come as much of a surprise if some team hands him at least $500 million in free agency.
But should the Red Sox be the ones to hand him that megadeal? 
With Boston reportedly expected to be in the mix for the two-way slugger/ace, let's weigh the pros and cons of the Red Sox signing Ohtani. 
PRO: A seismic splash 
The Red Sox are more than just one player away from establishing themselves as perennial contenders.
But doling out a record-setting contract to arguably one of the top sporting icons in the world would be a shot across the bow to the rest of MLB — and a stern message to an increasingly apathetic fanbase — that Breslow and the Red Sox organization are ready to make some noise after years of lackluster returns.
Even with yet another last-place finish in 2023, optimism is starting to bubble up in Boston — buoyed in large part by a surge of young talent both already at the big-league level and a crop of youngsters knocking on the door down in the minors.
But with Boston in a position to flex some fiscal muscle, signing Ohtani would give the Red Sox instant credibility — and steal headlines in a sports market where the beloved franchise has fallen behind other teams in town.
Not only would the sight of Ohtani donning a Red Sox jersey spike ticket sales, TV ratings, and merchandise revenues, it would once again fixate Boston as one of the epicenters of baseball during the summer — with tangible star power (rather than a fading reputation) leading to more featured airtime on the national airwaves.
Since the early 2000s, the Red Sox regularly energized its fanbase and asserted itself as one of MLB's premier powers by reeling off seismic offseason trades and inking star players to lofty contracts.
After failing to pay up for homegrown stars like Mookie Betts and Xander Bogaerts, the Red Sox can reverse that thrifty narrative in short order with a deal for Ohtani.
PRO: Taking out two birds with one stone (eventually)
Ohtani may not be able to pitch this season.
But even with his value "limited" to just his play at the plate, Ohtani would be a welcomed asset in the heart of Boston's order.
In 135 games last season, Ohtani slashed 304/.412/.654 with an American League-high 44 home runs and 95 RBI. In 14 games at Fenway, Ohtani is batting .310 with two doubles and two home runs.
His raw power to all fields would lead to multiple pitches being deposited into the Green Monster seats, along with moonshots beyond the bullpens in right field. Entrenching a slugger like Ohtani in the lineup alongside players like Rafael Devers, Triston Casas, and the next wave of young talent could give Boston a feared offense for years. 
Of course, Boston's top priority this offseason needs to be pitching. And even though Ohtani will not be able to anchor the Red Sox rotation in 2024, he could be a very tempting investment if he's given a clean bill of health moving forward.
Before his injury this year, Ohtani posted a 10-4 record with a 3.14 ERA, a 1.06 WHIP, and 167 strikeouts in 23 starts (132 innings). Over his five-year tenure with the Angels, Ohtani is 38-19 with a 3.01 ERA and 608 strikeouts in just 481.2 innings of work.
Not too bad on an Angels team that has routinely been mired in the cellar of the AL West.
Yes, the Red Sox need more immediate help on the mound. But if Boston believes that Ohtani has more left in the tank, he could establish himself as an ace or stud No. 2 pitcher in 2025 and beyond. 
CON: A sizable investment 
There's no question that the Red Sox have some money to throw around this winter.
But it remains to be seen if Boston should relinquish most of that financial flexibility on just one player — especially given the several areas of the roster that Boston needs to shore up.
With Boston currently just under $50 million short of reaching the first CBT threshold of $237 million, most of that cash (if not all of it) will be spent on Ohtani — putting the Sox on a slippery slope when it comes to their payroll moving forward.
Given just how poor Boston's pitching was last season, the Sox might be better served using that money on a pair of high-end starters like Yoshinobu Yamamoto, Jordan Montgomery, and Eduardo Rodríguez — rather than allocate it all on one player who can't pitch in 2024.
CON: A potential square peg in a round hole
Every MLB team would welcome a proven slugger like Ohtani in their lineup.
But given Boston's current defensive woes and their reliance on using the DH position to lighten the workload of other lineup regulars, signing Ohtani would give Alex Cora limited flexibility when it comes to balancing the rest of his roster.
With Ohtani penciled in at the DH spot, the Red Sox would have to keep Masataka Yoshida in left field all season long, as well as trot out players like Devers, Trevor Story and Casas in the field night in and night out.
Ohtani might offer a higher upside than Justin Turner at DH (even with Turner putting together a very impressive 2023 season), but the veteran's ability to slot around the infield gave Cora the leeway to make the most of that DH position.
With Ohtani, that malleability falls to the wayside, even if the returns of Ohtani at the plate often speak for themselves.
CON: Buyer beware?
Ohtani might be able to inject plenty of excitement into the Red Sox fanbase this winter.
But a $400-500 million contract could age very poorly if Ohtani's two-way play declines in short order.
Not only is Ohtani set to turn 30 next July, but he already has some significant injury concerns that have plagued him for years.
Beyond the current elbow issues that will keep him off the mound in 2024, Ohtani underwent Tommy John surgery in 2019. Even though he rebounded from that first major procedure, there's an awful lot of wear and tear that's been put on that elbow.
And even if Ohtani does keep pitching, Boston needs him to perform like an ace to make that megadeal worth it.
So should the Red Sox be the ones to hand Ohtani half a billion dollars?
As tempting as it might be, signing a 25-year-old potential ace like Yamamoto — along with another pitcher or two that can shore up an area of need in 2024 — sounds like the better play for Breslow and Co.
Sign up for Red Sox updates⚾
Get breaking news and analysis delivered to your inbox during baseball season.
Newsletter Signup
Stay up to date on all the latest news from Boston.com