Patriots
"It was all my fault. I made a mistake. That's what you're going to get from Bill."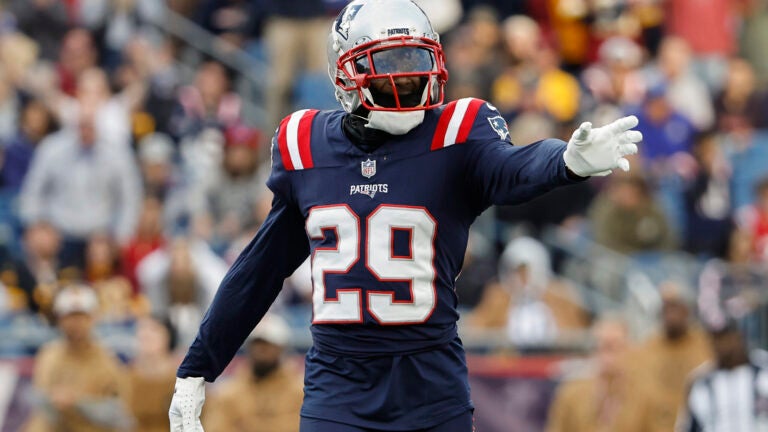 J.C. Jackson's second tenure in Foxborough has not gone nearly as well as his initial stint.
A ball-hawk corner in New England who earned All-Pro honors in 2021, Jackson is now back with the Patriots after inking a disastrous five-year, $82.5 million contract with the Chargers in March 2022.
He played seven total games in Los Angeles before the Chargers shipped him back to the Patriots for pennies on the dollar in an early October trade. 
It hasn't taken him very long to land in Bill Belichick's doghouse.
After logging steady snaps in his first four games with New England, Jackson was benched for the team's first two defensive series against the Washington Commanders on Nov. 5.
The following week, Jackson stayed home while his teammates flew to Frankfurt, Germany, to take on the Colts in an eventual 10-6 loss.
Speaking to MassLive.com's Mark Daniels on Tuesday, Jackson admitted that he missed several bed checks at the team hotel before New England's home game against Washington — leading to his weeks-long punishment. 
"I'm here now, so hopefully that won't happen again," Jackson told MassLive. "It was all my fault. I made a mistake. That's what you're going to get from Bill [Belichick]. That's one thing about him. He's going to discipline no matter who you are."
"It was nothing major," Jackson added. "I wasn't out that night doing anything stupid. It was just I wasn't where I was supposed to be on time. Little mistakes, man. I'm a professional. I know better than that. I've been around. I've never missed a bed check. Things happen. If I knew what that was going to cause, I would have never done it."
The 28-year-old cornerback could make his return to the lineup on Sunday afternoon against the Giants at MetLife Stadium.
Looking beyond his disciplinary issues, Jackson has not been the same impact player on the field as he was during his early years with the Patriots from 2018-21. He relinquished two touchdowns in coverage during New England's loss to the Dolphins on Oct. 29.
But with rookie Christian Gonzalez out for the year with a shoulder injury and New England opting to cut ties with fellow defensive back Jack Jones last week, the Patriots need a veteran like Jackson back on their depth chart going into Sunday's game at the Meadowlands.
"Reality check – I'm not bigger than the team. I'm not bigger than nobody in here," Jackson told Daniels. "This is a team sport and I have to do whatever everybody else is doing. I want to be a part of the team. This is my team. This is home for me, man. This is where I want to be.
"I don't want to go nowhere else. I want to finish my career here also. I've just got to continue to build that leadership each and every day. It just stinks for me – I kind of played a lot of football. I know what to do at this point."
Sign up for Patriots updates🏈
Get breaking news and analysis delivered to your inbox during football season.
Newsletter Signup
Stay up to date on all the latest news from Boston.com