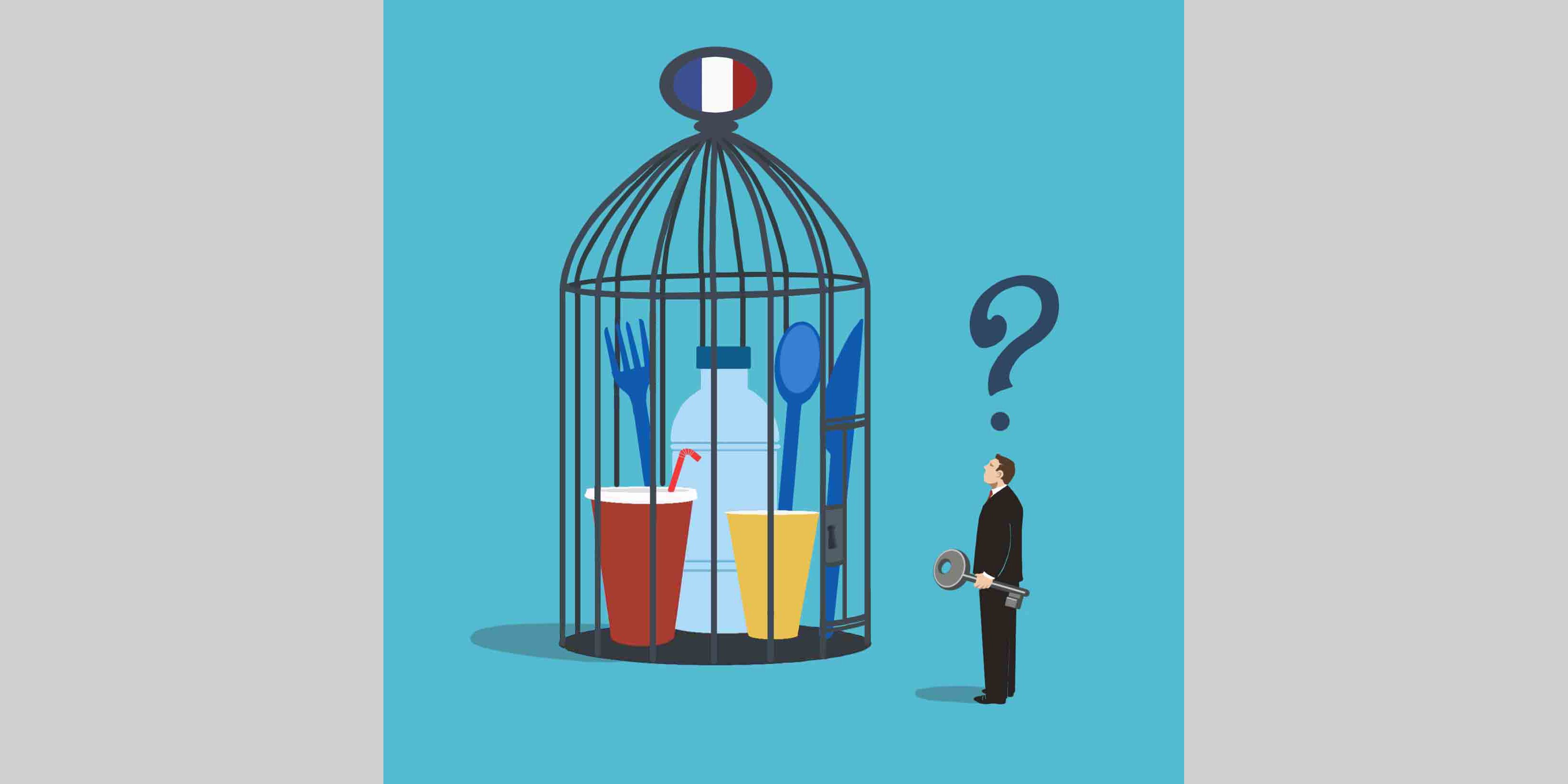 The fight started with plastic bags. In a few years, France has passed a series of bans on plastic objects: bags, therefore, banned from supermarket checkouts in 2016 and everywhere else since 2017; then cutlery and plates, straws and stirrers, or even cotton swabs. With the anti-waste law for a circular economy (Agec) in 2020, it went further than European regulations. Objective: eliminate single-use plastic by 2040.
Logab Solutions: reducing plastic packaging with innovative materials
However, disposable plastic is still everywhere. Worse, it is gaining ground. In 2021, each French person threw away 197.72 kilos of packaging, including 36.79 kilos of plastic, up 12.68% compared to 2016, according to Eurostat. With a disastrous environmental impact upstream – plastic being the third industry emitting the most CO2 – as well as downstream, due to the release of waste and chemical components into natural environments. Illicit products are even resisting, beyond the flow of stocks. "Many illegal bags are still circulating in markets and small businesses," assures Diane Beaumenay-Joannet, advocacy officer at the Surfrider foundation.
Chairman of the Environment Committee in the European Parliament, Pascal Canfin (Renew) assessed the application of the directive on single-use plastics in four countries including France. His conclusion: "Where there have been controls and significant sanctions, changes have taken place," he describes. And to cite the Balearic Islands, where fines of up to 300,000 euros have been imposed against fast food chains.
Requested by La Tribune Sunday, the Directorate General for Competition, Consumer Affairs and Fraud Prevention reports the results of an investigation conducted in 2021 on plastic bags. Of the 42 bags taken, during 143 checks, 20 did not comply with the law, representing a non-compliance rate of 47.62%. Six reports were drawn up. Regarding the directive against single-use plastic, controls started on July 1 and the results are not yet available.
Lack of control
"We need more controls and fewer exemptions," concludes Manon Richert, from Zero Waste France. Therefore, since 2022, fresh unprocessed fruits and vegetables can no longer be packaged. But exceptions are provided for 29 varieties. Manon Richert also talks about plastic bags sold for a few cents at the checkout. "From a density of 50 microns, they can be presented as reusable, she explains. But in real life, they are rarely reused more than a few times. »
"The bans were rather respected, tempers Vincent Nicolas, plastics engineer at the Environment and Energy Management Agency (Ademe). What we see are cardboard or biodegradable alternatives. » This is the case of biosourced trays in fast food restaurants, which have replaced expanded polystyrene, or cardboard cups covered with plastic film. Two materials whose environmental benefit is debated. "We replaced the cups with waste that we don't know how to recycle, continues Vincent Nicolas. This was not the will of the law. The circular economy means first reducing, then reusing, and finally recycling cler. » "If we replace a single-use plastic with its equivalent in another material, we continue to produce to throw away", alert Diane Beaumenay-Joannet.
"There is what is prohibited but also new uses that are appearing", observes MoDem deputy Philippe Bolo, co-author of reports on this pollution. The elected official lists these peeled fruits, these already cooked eggs, these individual portions which appeal to certain consumers. "The law regulates but marketers are always producing more and have been helped by Covid-19, he laments. We take the plastic out through the door, it comes back through the window. »
For NGOs, we must tackle everything disposable at the same time as plastic, by supporting bulk, sobriety and reuse. "France focused on bans but did not put as much ambition on reuse," believes Diane Beaumenay-Joannet, who regrets that the government has chosen volunteering to deploy the glass deposit.
Another lever: change scale. Today ends in Kenya a session of negotiations for the future international treaty to combat plastic pollution, legally binding, with the objective of reducing the production of virgin plastic. On Wednesday, MEPs will examine the packaging regulation. "With this text, we move away from the logic of banning product by product to seek to change the system, indicates Pascal Canfin. The first principle is to avoid unnecessary packaging, whether plastic or paper. » Other packaging must be recyclable from 2030, with an effective recyclability obligation. This regulation is a big attack: in Europe, this sector represents 355 billion euros in turnover and 84 million tonnes of waste per year.