WARNING: SPOILERS ahead for Lawmen: Bass Reeves episode 4.
Summary
Lawmen: Bass Reeves episode 4 introduces the terrifying character of Mr. Sundown, a cannibalistic slave catcher who hunts former slaves at night.
Bass Reeves, known for his ability to separate fact from fiction, may start believing Ramsey's ghost story by the end of the episode.
Ramsey's consistent talk of Mr. Sundown summons a dark energy that leads him to murder a prisoner and attempt to kill Bass, posing a real threat to the lawman.
The Paramount+ Western series Lawmen: Bass Reeves dips its toes into the horror genre with the inclusion of a mythical slave catcher character named Mr. Sundown. As Bass Reeves (David Oyelowo) works with young outlaw-turned-posseman Billy Crow (Forrest Goodluck) to round up a group of fugitives and criminals in episode 4, one of their prisoners continues to tell anecdotes about the notorious Mr. Sundown. Ramsey (Rob Morgan) speaks of the terrifying "Old Mr. Sundown" around a campfire with Bass, Billy, and the other prisoners, setting the scene for a very chilling tale.
Through four episodes, Lawmen: Bass Reeves episode 4 marks the halfway point of the Paramount+ series. Bass has started to establish himself as one of the most efficient and skilled Deputy U.S. Marshals within the jurisdiction of the Western Arkansas court district under "The Hanging Judge" Parker. Bass has demonstrated his keen ability to separate fact from fiction, often having to decipher whether people are lying or telling the truth as he endlessly pursues to capture known outlaws. Ramsey's story, however, represents a rare point for Bass Reeves' character as by the end of Lawmen: Bass Reeves episode 4, he might have started believing in Ramsey's ghost story.
RELATED: The Heartbreaking Reason Why Bass Reeves Takes Billy Crow Under His Wing In Paramount's Western Show
Ramsey's Ghost Story About Mythical Slave Catcher Mr. Sundown Explained
Ramsey Describes A Cannibalistic Slave Catcher Around A Spooky Campfire
In Lawmen: Bass Reeves episode 4, the talkative and deceitful Ramsey tells Bass, Billy, and the rest of the prisoners a chilling story about "Old Mr. Sundown" who became infamous for capturing three women and apparently eating them. To Ramsey's credit, he does tell a convincing story that places fear in everyone listening in the scene other than Bass, who appears more suspicious than anything. Ramsey claims that Mr. Sundown is still roaming around the area at night hunting for former slaves in order to kill them and build a plantation made of skin and bones.
Ramsey paints a terrifying picture of Mr. Sundown's "dark, dark church full of Hell's music", placing an eerie occult tone on the scene. Ramsey then begins to sing and scream a strange song that honors Mr. Sundown until Bass taps his Holy Bible on his shoulder and gets him to stop. Bass has remained a devout and firm believer in God throughout the series thus far, so it makes sense that he would stop Ramsey's obscene illustrations and performances of anything that would lean into areas of evil or the occult. Bass tells Billy to read a verse from the Bible out loud to rid of the dark energy that Ramsey had just introduced.
Episode 4's Mr. Sundown Story Sets Up A Terrifying Real Threat For Bass Reeves
Ramsey Might Not Have Been Telling Ghost Stories After All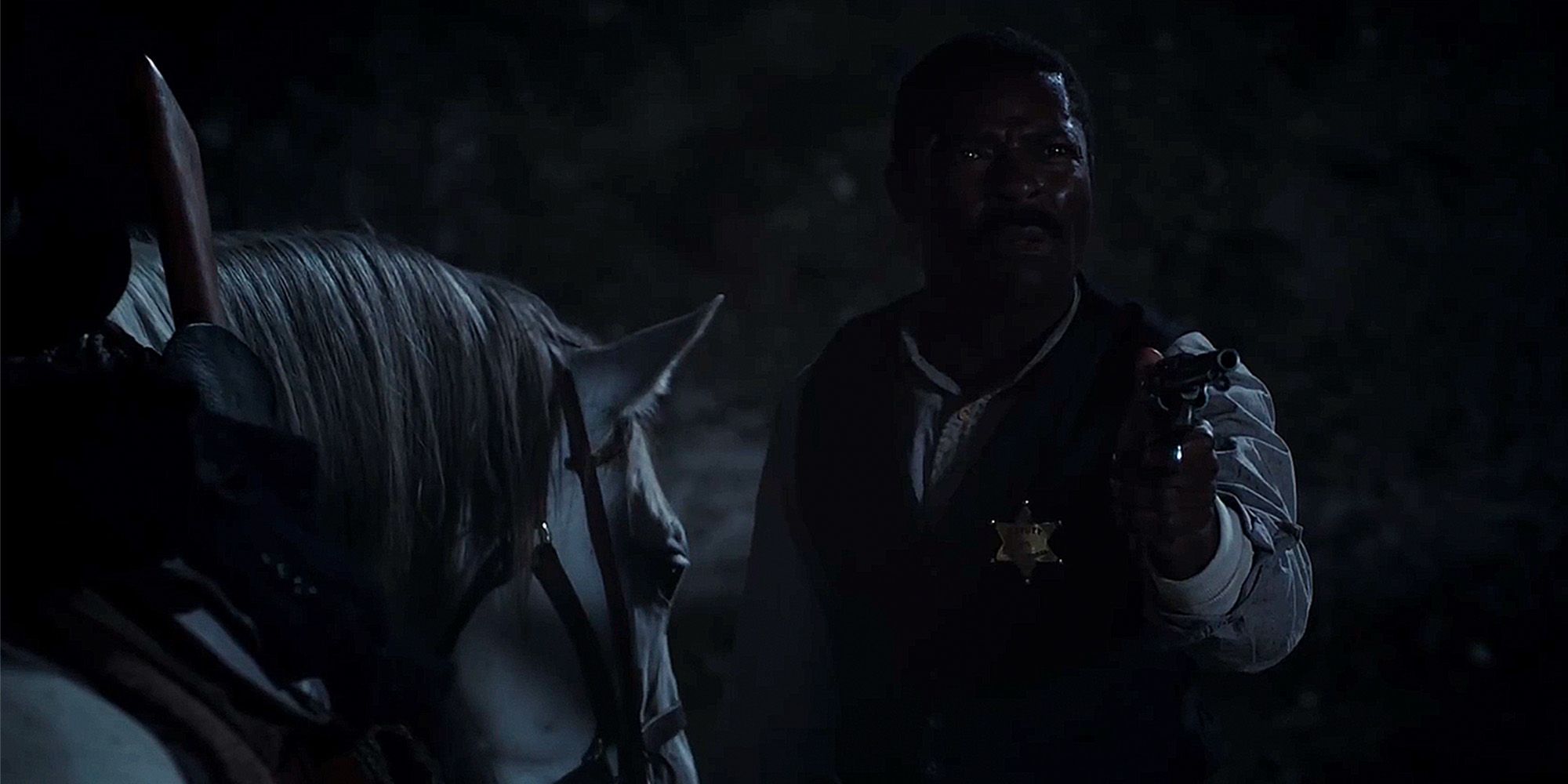 Ramsey continues to scream and sing out for Mr. Sundown rather hysterically throughout Lawmen: Bass Reeves episode 4, testing Bass Reeves' patience until he is finally pushed over the edge. Ramsey tries to kill Bass Reeves in the night after he escaped his shackles and had already brutally murdered another prisoner. It appears that Ramsey's consistent talk of Mr. Sundown summoned a dark energy that led him to murder the prisoner and try to take Bass' life while he was sleeping. Bass clearly feels the presence of evil as he beats Ramsey up for attempting to murder him in cold blood.
Bass is challenged like never before in the face of Ramsey's wickedness in Lawmen: Bass Reeves episode 4. Ramsey's determination to spread his wickedness is relentless as he tells Bass that he doesn't respect his badge or his authority as a lawman. Bass retaliates by reminding Ramsey with a brutal punch that to him, he is the law and God wrapped in one. Bass seems to have finally put a lid on Ramsey's sinister ways until the very last scene of the episode in which he may have actually been approached by Mr. Sundown himself. What was once considered morbid fantasy has now become a very real threat to Bass Reeves.
RELATED: How 1 Yellowstone Actor Brilliantly Shaped The World Of Lawmen Bass Reeves (& Made It Better)
Is Bass Reeves' Mr. Sundown Based On A Real Person?
Slave Catchers Were A Serious Threat Following The Civil War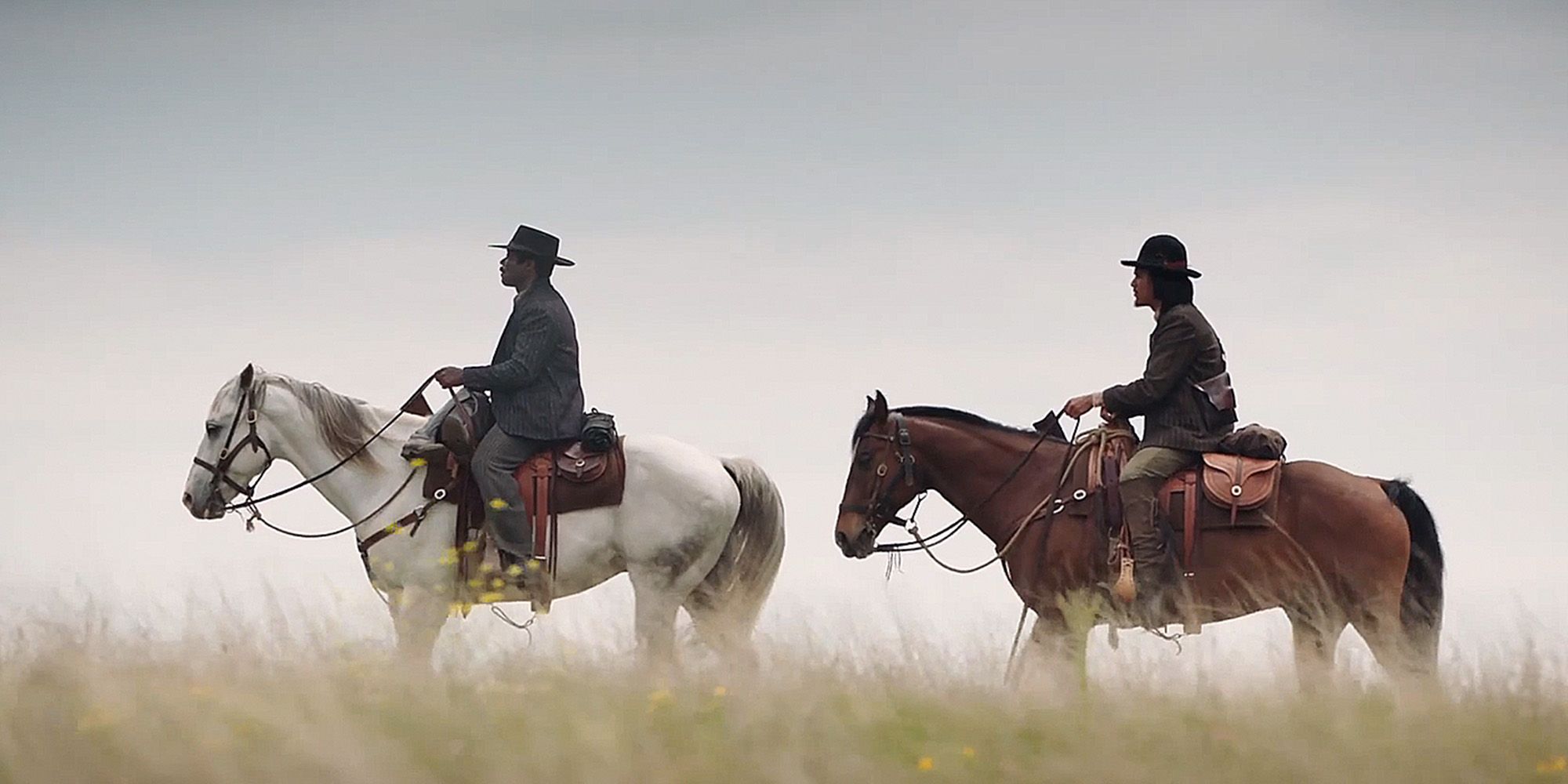 Mr. Sundown is likely to emerge as a formidable foe in future episodes of Lawmen: Bass Reeves if he is actually as real as Ramsey claimed him to be. Through four episodes, there is not enough information to know whether Mr. Sundown is based on a real-life person, although slave catchers were historically a very grave threat following the Civil War. According to Ramsey, Mr. Sundown is not only a night-dwelling slave catcher but also a cannibal with associations with the occult or devil-worshiping practices. Hopefully, Lawmen: Bass Reeves episode 5 will reveal the truth about the horrifying Mr. Sundown.
Release Date:

2023-11-05

Cast:

David Oyelowo, Dennis Quaid, Forrest Goodluck, Lauren E. Banks, Barry Pepper, Grantham Coleman, Demi Singleton, Garrett Hedlund

Genres:

Drama, Western

Rating:

TV-MA

Seasons:

1

Writers:

Chad Feehan, Jacob Forman, Taylor Sheridan

Streaming Service(s):

Paramount+

Directors:

Taylor Sheridan, Damian Marcano, Christina Alexandra Voros

Showrunner:

Chad Feehan, Taylor Sheridan