Summary
Obliterated is an action comedy series from the creators of Cobra Kai, featuring a talented ensemble cast and a high-octane plot set in Las Vegas.
The showrunners draw from their previous experience in hard-R comedies to infuse Obliterated with both adrenaline-fueled action and outrageous humor.
The series offers a fresh departure for the creators after working on Cobra Kai, allowing them to explore new characters, storylines, and genres while maintaining their signature style.
Obliterated is a new action comedy from the creators of Cobra Kai. The 8-episode series tells the story of an elite US military team who celebrate hard in Las Vegas after seemingly stopping the detonation of a nuclear bomb. At the height of their revelry, the team discovers they disarmed a decoy, and a very real threat to Las Vegas is still in the city. The cast of Obliterated is full of up-and-comers including Shelley Hennig, Nick Zano, Eugene Kim, and Kimi Rutledge, but also features the renowned C. Thomas Howell in a role unlike any other.
If the debauchery of Obliterated seems like a surprising jump from the all-inclusive appeal of Cobra Kai, it's a good time to remember that Cobra Kai showrunners Josh Heald, Jon Hurwitz, and Hayden Schlossberg cut their teeth on hard-R comedies like Hot Tub Time Machine and Harold & Kumar Go to White Castle. In that context, Obliterated is a return to roots for Heald, Hurwitz, and Schlossberg; the difference this time is that the Netflix series amps up the adrenaline to earn both halves of its action-comedy classification.
Related: Obliterated: Release Date, Cast & Everything We Know About The Netflix Show
Hayden Schlossberg, Josh Heald, and Jon Hurwitz spoke with Screen Rant about their own Vegas experiences, jumping from Cobra Kai to Obliterated and back, and more.
Hayden Schlossberg, Josh Heald & Jon Hurwitz Talk Obliterated
Screen Rant: Jon, you mentioned earlier on the bus that we were all on that you've all been to Vegas many times on bachelor parties and things like that. Did any life experiences get directly translated into this series?
Jon Hurwitz: I don't think anything, specifically. I think the closest thing is the phone call that Paul is having with his wife in the first episode when McKnight grabs the phone, says some inappropriate things, and then hands the phone back. I think that happened during one of the bachelor parties that we were on where suddenly a friend's wife was like, "Why would you put a random on the phone with me to say those awful things?" So I think that's the closest thing to anything else—

Hayden Schlossberg: There was that time that Josh was totally naked and fell into a glass table—

Jon Hurwitz: Right, that's true.

Josh Heald: And there was a scorpion pit underneath.
You have such an incredible ensemble cast in this series and have given them so much to do that is just insane. Were there any moments where someone took extra convincing, preparation, or warning?
Josh Heald: We wanted everybody in the ensemble to feel like they're the hero of their own story in this universe. It's kind of how we approach Cobra Kai as well: just give everybody big story swings and moments, and the perspective keeps shifting, and the camera keeps changing focus, and now it's on you a little bit more. They knew that going into the process; they knew that we would be pushing the envelope with what we would be asking of them from the earliest days before they were cast.

And right as the script started coming in, they became even more increasingly aware of all the fun we were going to have, all the brave things we were going to ask them to do, and they never fought it. They only asked, "How can we help achieve this? How can we make this better and stronger?" and [how it could] look as real or as grotesque or as heroic as we were asking them to make it look.
You obviously have done such incredible work on Cobra Kai. I know this idea began over a decade ago as a movie and then you've adapted into the series. What does it mean for all of you to have this take off as Cobra Kai is coming to a close?
Hayden Schlossberg: We love characters, and that's the through line of everything. We're working on the final season [of Cobra Kai], but everything happened at the right time because we shot seasons four and five of Cobra Kai back-to-back and we were chomping at the bit to do something different. You work on the same show… We love it but, creatively, we wanted something that was fresh. To come out of season five and work on Obliterated… We were chomping at the bit to do something new, work with new characters, new storylines, and a totally different genre–hard R and all of that–and now, finishing Obliterated, it's like, "I kind of want to go back to Cobra Kai."

Shooting Obliterated was like going to college and having a wild time, but then it's like, "I want to go back home now to my family." And so, we're teed up to make season six as awesome as it should be, because we're not beating a dead horse with it. For us it's fresh because we just came off of the whole season of Obliterated, so we can't wait to get into the characters of Cobra Kai and those storylines. It's always the same exercise, it's just a different type of story.
You've all done incredible work on other films too, like Harold and Kumar, and Hot Tub Time Machine. This does feel, in some ways, like a return to that kind of comedy. Were there any ways that you wanted to approach that differently now, in this show?
Jon Hurwitz: What we were excited about with this show was to do the type of comedy that we've done in the past but give it the big adrenaline action element as well. I don't think there's ever been something quite like Obliterated where you see the kind of big laughs [and] the big outrageous comedy that you would see in those big R-rated summer blockbusters merged together with the Mission: Impossible type things. We don't quite have the budget of that, but we have big action like that, where you're trying to take the stakes really seriously and it's a life-or-death situation, but you also have puke, and gremlins, and camels, and body parts of all kind that you're seeing. [I don't think] this recipe has happened before, especially in a TV series.

Hayden Schlossberg: And the fun thing is [that with] the movies that we worked on, there's usually a small group of protagonists, and with this series, we had this big ensemble of eight characters–diverse, male, female, different age groups. You give different types of characters their own wild Vegas night. Everyone gets their own hangover in this, and that was a fun thing to be able to do as a series.
About Obliterated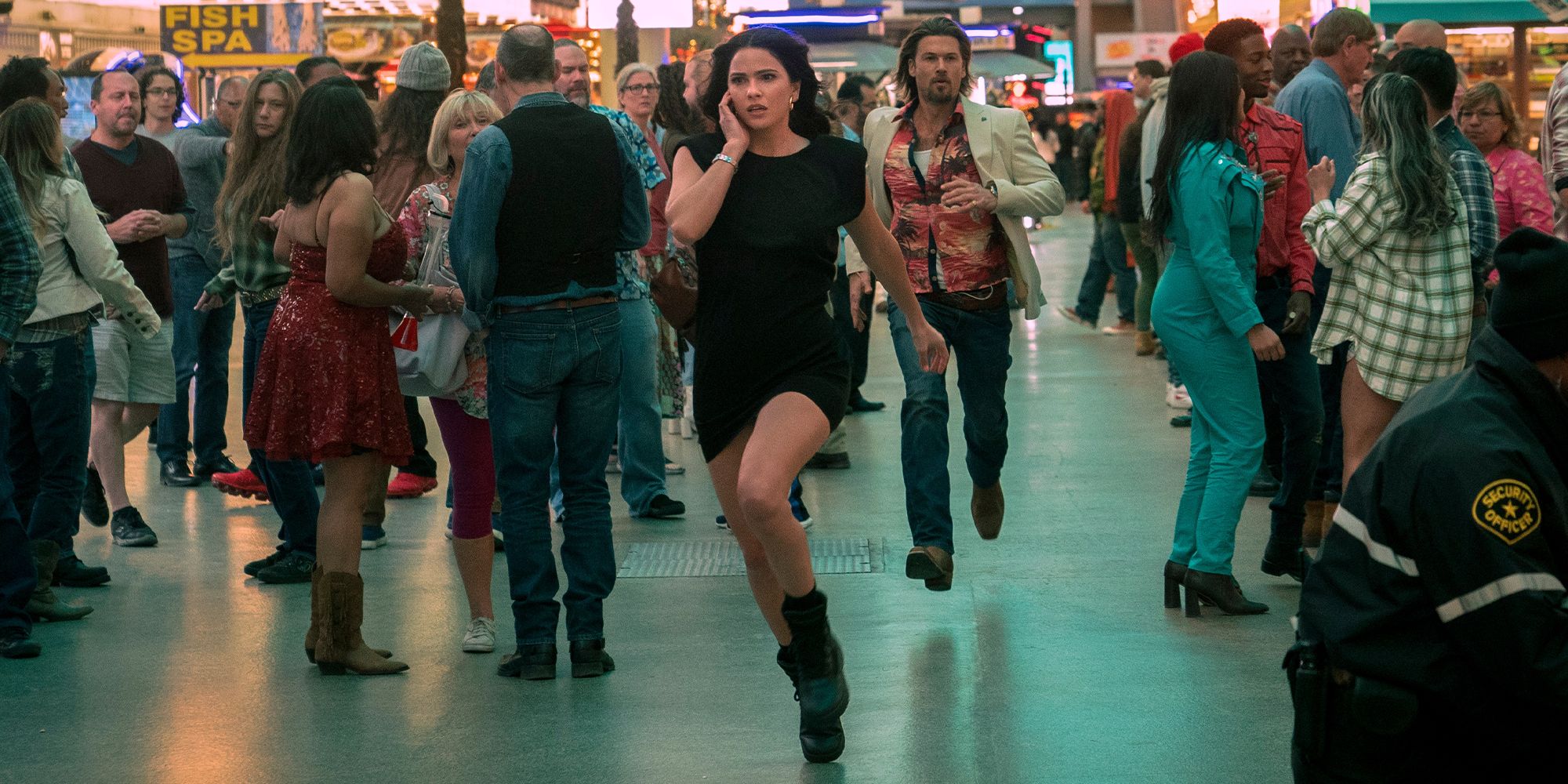 Obliterated is a high-octane action-comedy that tells the story of an elite special forces team that thwarts a deadly threat to Las Vegas. After their celebratory party, filled with booze, drugs, and sex, the team discovers that the bomb they deactivated was a fake. The now intoxicated team has to fight through their impairments, overcome their personal issues, find the real bomb, and save the world.
Check back for our interview with Obliterated stunt coordinator Marcus Young and military advisor Kevin Kent.
All episodes of Obliterated will be released on Netflix on November 30th.
Source: Screen Rant Plus
Release Date:

2023-11-30

Cast:

Nick Zano, Shelley Hennig, Terrence Terrell, C. Thomas Howell, Paola Lázaro, Alyson Gorske, Eugene Kim, Kimi Rutledge

Genres:

Action, Comedy, Drama

Seasons:

1

Writers:

Josh Heald, Jon Hurwitz, Hayden Schlossberg

Streaming Service(s):

Netflix

Directors:

Jon Hurwitz, Hayden Schlossberg, Josh Heald

Showrunner:

Jon Hurwitz, Hayden Schlossberg, Josh Heald