Music
The public can hear Shelter Music Boston's "Songs of Life" program at a free performance on Sept. 27.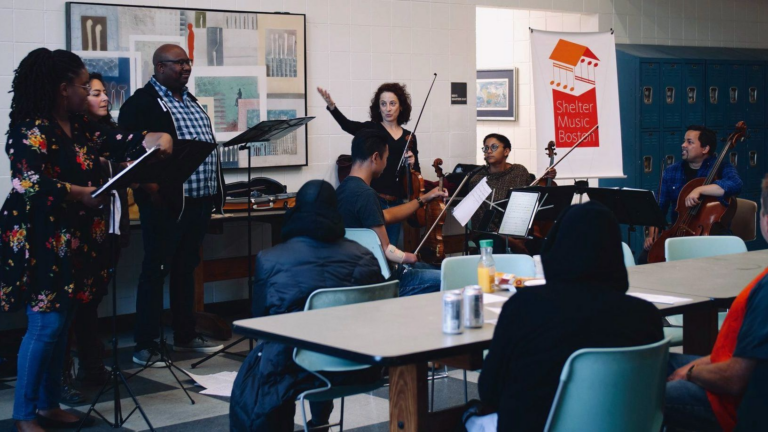 Shelter Music Boston's latest concert series, "Songs of Life," was inspired by — and created for — the clients of local homeless shelters, recovery centers, and affordable housing communities. Shelter clients aren't the traditional audience for classical music, artistic director Adrian Anantawan admitted — but that's the whole point.
Shelter Music Boston has been performing at Boston-area shelters and substance use recovery centers for years. They're musicians, but they also see themselves as delivering a social service. Classical music can be therapeutic, Anantawan explained; it can restore dignity; it affirms our shared humanity.
"'Songs of Life' was a response to the continual feedback that we get from our audiences of, 'Oh, can you play this piece of music that is important to me in my life?'" Anantawan told Boston.com. "I thought that it would be really lovely to … use those stories and the songs that are meaningful to them to inspire new pieces of classical music so that our audiences really had a form of agency in the music that we're playing."
Anantawan — a prolific violinist himself, as well as an educator and disability advocate — asked four composers to take shelter audience suggestions and adapt them into new, classical compositions.
Composer and violinist Dr. Francine Trester, a Berklee College faculty member who has collaborated with Shelter Music Boston before, chose to riff off of Survivor's 1982 hit "Eye of the Tiger." 
Trester's quartet takes the recognizable motifs of "Eye of the Tiger" and reworks them into something new. Composing with the theme of "hope" in mind, Trester paid special attention to the song's opening lyrics. 
"One of the lines is 'rising up,' and that really spoke to me," Trester said. "So one of the things that my music does is [it] gradually rises from a low C, it climbs to a higher C."
For Trester, the process of reworking a preexisting piece and imbuing mimicked the fundamentally human experience of adapting to life's unexpected twists and turns.
"You take what you're given, and then you make something for yourself out of it," she said. "I mean, that's an act of hope, in a way. So I hope that [the audience hears] something familiar in it, but then hear that it's been taken someplace else, and that they translate that process, that journey, to their own trajectory."
In addition to Trester's take on "Eye of the Tiger," the "Songs of Life" program includes original compositions by Ché Buford (who drew inspiration from the Brazilian pop/alternative rock band Tribalistas' "Eu Gosto de Você"), Anthony R. Green (inspired by A Tribe Called Quest's "Can I Kick It?"), and Sato Masui (inspired by Dead Prez's "Happiness").
The concert series consists of five private performances by Shelter Music Boston's string quartet at shelters and recovery sites the week of Sept. 18, plus one free, public performance on Sept. 27 at St. Cecilia Parish in Back Bay. Reservations for the concert are recommended.
Dwayne Brown is a volunteer services coordinator for the Boston Public Health Commission who has worked with Shelter Music Boston to set up performances at the Southampton Street and Woods Mullen shelters.
"The guests really, truly love Shelter Music Boston coming in," Brown told Boston.com. "Music sets a tone. It gives you a certain feeling."
"Being in the shelter setting, it's very busy." Brown continued. "You're doing a lot… your mind is full, [but] then by the end of their selection, you're feeling more relaxed."
At a time when most of the headlines about homelessness in Boston invoke a "crisis" at Mass. and Cass, or reduce struggling people to statistics on a page, Anantawan hopes the public concert leaves people feeling empathy toward the shelter clients whose input shaped the program.
"Music is one of those shared languages that we have across cultures, across time, and especially across, just, the people that we see all the time who are going through these challenges," Anantawan said.
"Music provides its own type of shelter," Trester said, "which everybody needs."
Newsletter Signup
Stay up to date on all the latest news from Boston.com