BEAUFORT, S.C. — A plea deal was struck Friday in the state of South Carolina's case against convicted killer Alex Murdaugh, reached days before the start of his trial on dozens of alleged financial crimes.
Murdaugh, 55, appeared in Beaufort County Court before Circuit Court Judge Clifton Newman and agreed to plead guilty to various counts, including in a case that he was accused of siphoning off insurance settlement funds in the death of the Murdaughs' longtime housekeeper, Gloria Satterfield.
Chief prosecutor Creighton Waters of the state Office of the Attorney General said the deal means Murdaugh will serve a "lengthy sentence" that "ensures Mr. Murdgah will remain in state prison for a very long time."
For more on the case, watch "The Murdaugh Murders: Inside the Investigation" on "Dateline" at 9 ET/8 CT Friday.
The state's sprawling case, which played a pivotal role in Murdaugh's double murder trial in February, included 101 total financial-related charges and an alleged loss of $8.8 million to those affected by the scheme he allegedly perpetrated while he was a personal injury lawyer.
Murdaugh is serving two consecutive life terms for the fatal shootings of his wife, Margaret, 52, and their youngest son, Paul, 22, in 2021.
The deal between the state Attorney General's Office and Murdaugh's defense team means he will avoid a trial that was slated to begin Nov. 27, in what would have again brought a spotlight onto the disbarred attorney.
Murdaugh's murder trial drew intense coverage, given his lineage as the scion of a powerful legal family in South Carolina's Lowcountry, and his curious actions in the wake of the deaths of his wife and son at their rural estate.
The case, first classified as an unsolved double homicide, quickly unraveled into wider allegations of financial fraud, a hired hitman plot and drug addiction, and it revived inquiries into other curious deaths linked to the Murdaugh family.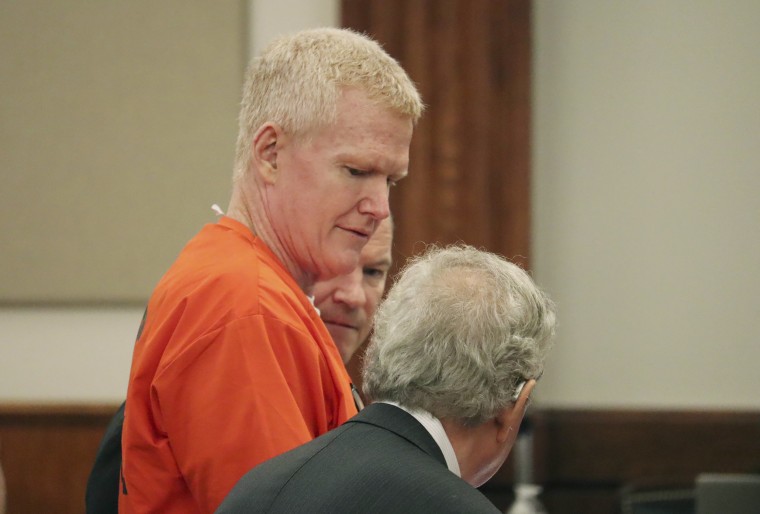 Murdaugh has proclaimed his innocence in the deaths of his wife and son since a grand jury indicted him in the murders last year. Prosecutors alleged he killed them to gain pity before he would be exposed for a slew of financial crimes.
He pleaded guilty in federal court in September to almost two dozen counts of financial fraud and money laundering. As part of a plea deal, Murdaugh must pay restitution to "each and every identifiable victim," according to the agreement with federal prosecutors, who accused him of stealing about $9 million from clients in a "pattern of criminal activity" going back more than a decade.
In addition, he may be subject to a polygraph test and could be called to "testify fully and truthfully before any grand juries and at any other trials or other proceedings," prosecutors said.
In return, his federal sentence must run at the same time as any sentence imposed in his state case.
This is a breaking news story. Please check back for updates.
Juliette Arcodia reported from Beaufort, and Erik Ortiz from New York.