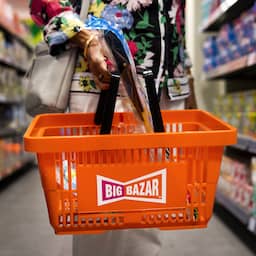 Sep 19, 2023 at 8:20 am Update: a minute ago
Big Bazar is avoiding bankruptcy again for the time being. Two creditors have submitted a request to the court. They want an expert to be appointed to look at how the financial problems at the retail chain can be solved.
The request automatically pauses pending bankruptcy filings. The two creditors also point out that Big Bazar has collected a sum of 2 million euros. With that money the company could meet its current obligations.
Big Bazar itself has already asked twice for the appointment of a so-called restructuring expert. The judge denied this request both times.
According to Big Bazar's lawyer, the matter is now different thanks to the commitment of 2 million euros by a company that was founded on Monday. With that money, the store chain would be able to pay current payments for at least four weeks.
If the judge agrees this time, a cooling-off period will follow. This gives the discount chain more time to make agreements with creditors.
Big Bazar is in serious financial difficulties and has been on the verge of collapse for weeks. The company's debts have now risen to tens of millions of euros. In addition, from 2020 to last year, the chain suffered losses of 13 million to more than 17 million euros per year, partly due to the corona crisis.