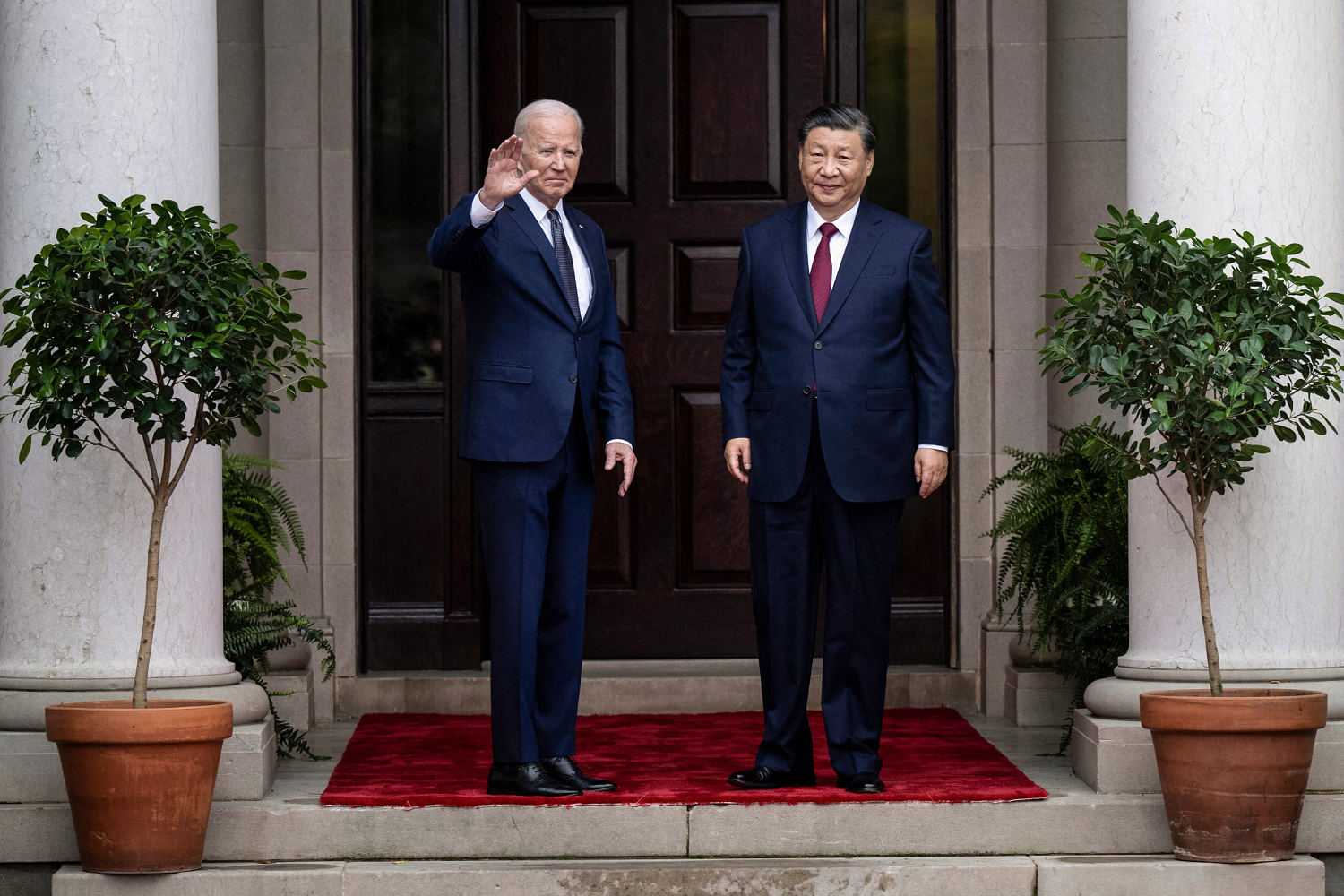 Chinese president Xi Jinping and President Joe Biden find common ground. New videos show Alec Baldwin on the set of "Rust" days before fatal shooting. And why Taylor Swift and Travis Kelce's romance is changing dating standards. 
 Here's what to know today.
Biden hails new agreements with China's Xi Jinping
After going a full year without speaking, President Joe Biden and Chinese President Xi Jinping emerged from a series of meetings yesterday in San Francisco with a seemingly positive tone and a new agreements.
At a news conference last night, Biden said they agreed to pick up the phone and call each other directly when needed — something the U.S. wasn't able to do earlier this year when a Chinese spy balloon flew over the country, according to a senior administration official. Biden also touted agreements to revive dormant military communication channels, crack down on fentanyl tracking and work jointly to address rapid advances in artificial intelligence.
This is Morning Rundown, a weekday newsletter to start your morning. Sign up here to get it in your inbox.
Biden cautioned that he would not accept Chinese promises to cooperate at face value. When a reporter asked if Biden trusted Xi, Biden used the phrase, "Trust but verify." Biden also reiterated his use of the word "dictator" to describe Xi, a label he used over the summer.
The summit attempted to revive a deteriorating relationship between the two countries and tamp down risk of an unwanted confrontation. But there is still one knotty problem for both sides: Taiwan. Xi wants to unify China and Taiwan, while Biden asked that China respect Taiwan's electoral process ahead of its January presidential election.
Stopgap funding bill heads to Biden's desk
President Joe Biden is expected to sign a funding bill passed in the Senate last night, pushing the threat of a government shutdown to next year. Last night, the short-term continuing resolution cleared the Senate 87-11, a day after it passed in the House. The new dates to watch for are Jan. 19 (when funding for the Agriculture, Transportation, Housing and Urban Development and Veterans Affairs departments run out) and Feb. 2 (the funding deadline for the rest of the government). The extra time gained through the CR will allow House Republicans to pass appropriations bills and for House and Senate negotiators to reach a deal on funding.
The gap between Biden and Netanyahu is widening
As Israel's military assault on Hamas continues, frustration is building among U.S. officials who have repeatedly called on Prime Minister Benjamin Netanyahu and his government to take more action to protect civilians and allow more aid into Gaza. More friction is building over crucial long-term questions about who will govern the Palestinian enclave after Israel completes its offensive, current and former U.S. officials said. An incident last week, which included a series of contradicting statements from U.S. and Israeli officials, exposed the divide. 
More on the Israel-Hamas war
Previously unreleased 'Rust' videos obtained
New videos show actor Alec Baldwin handling at least one prop gun and interacting with crew members on the set of the movie "Rust" days before Baldwin's prop gun fired a live round of ammunition, killing cinematographer Halyna Hutchins in 2021. 
The never-before-seen videos are among many provided last month to special prosecutors, according to a source familiar with the matter. However, NBC News hasn't reviewed a majority of the videos. See clips from the videos obtained by NBC News.
Prosecutors have previously announced their intention to re-charge Baldwin with involuntary manslaughter. This week, a grand jury was due to be convened to consider the re-charging, before a judge rescheduled yesterday. 
Politics in Brief 
2024 election: Sen. Joe Manchin of West Virginia said on "Meet the Press" that he would "absolutely" consider a presidential run, a week after announcing he would not seek re-election in the Senate.
Primary contests: New Hampshire announced Jan. 23 its presidential primary date, a decision that could lead to punishment from the Democratic National Committee. Biden will not be on the ballot, and that could spell trouble for his re-election campaign. 
Georgia election case: An attorney for one of Donald Trump's co-defendants admitted to leaking witness videos to a media outlet. 
Staff Pick: Are Taylor and Travis are the new dating standard?
As the world watches Taylor Swift and Travis Kelce's high-profile romance unfold, many people say they're no longer willing to settle for anything less than this kind of love story. And it's not just fans gushing over Swift and Kelce's mutual enthusiasm and affection. I asked people across the country how this relationship has inspired them to raise the bar for their own romantic partnerships. — Angela Yang, culture and trends reporter
In Case You Missed It
The mother of a 6-year-old student who shot his first-grade teacher in Virginia was sentenced to nearly two years in prison.
An Alabama woman born with two uteri is expecting a baby in both.
Philadelphia police said they have yet to find any evidence of an alleged hit-and-run accident involving 76ers guard Kelly Oubre that left the player with a broken rib and several lacerations. 
Las Vegas police are trying to identify two other people of interest in the fatal beating of a high school student.
SpaceX received clearance to launch its 400-foot Starship rocket after a first attempt in April ended in a fiery explosion.
An Ohio community is left mourning the deaths of three high school students, two parent chaperones and a teacher in a fiery bus crash earlier this week.
Select: Online Shopping, Simplified
Amazon has joined major retailers in releasing steep early Black Friday savings, offering sales on items, from noise-canceling headphones to a coffee and espresso machine and everything in between. Our Select team rounded up the best early Amazon Black Friday deals to consider.
Sign up to The Selection newsletter for exclusive reviews and shopping content from NBC Select.
Thanks for reading today's Morning Rundown. Today's newsletter was curated for you by Elizabeth Robinson. If you're a fan, please send a link to your family and friends. They can sign-up here.