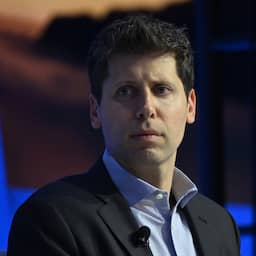 Nov 17, 2023 at 10:41 pm Update: 5 hours ago
Sam Altman is leaving as CEO of Open AI, the technology company behind ChatGPT announced on Friday. OpenAI's board of directors has expressed no confidence in him after a "considered review process".
That review process would have shown that the 38-year-old Altman was not "candid in his communications with the board," which would have prevented the board from properly carrying out its responsibilities. "The board no longer has confidence in its ability to continue to lead OpenAI."
Mira Murati, who previously served as the company's technical director, has been appointed interim CEO. That writes OpenAI in a statement.
"I loved my time at OpenAI," Altman writes on He reports that he will have more to say about the future later.
OpenAI, a start-up based in San Francisco, turned the tech world upside down at the end of last year with the online chatbot ChatGPT. The chatbot attracted hundreds of millions of users and amazed people with the way it answered questions, even wrote poetry and discussed virtually any topic that came its way.
Friends with tech billionaires like Elon Musk
Altman was no newcomer to the tech industry when he founded OpenAI in 2015. He had been working on his career for several years and was friends with top investors such as Peter Thiel, Reid Hoffman and Elon Musk. With the help of their money he was able to found the company.
OpenAI had to develop technology that would be available to everyone, Altman promised Wired. The goal was to develop an AI that advances humanity. "With this nonprofit we can focus on using the technology safely," Musk said in the same interview.
But the company's nonprofit format was changed in 2019. OpenAI became partly a commercial company, with a non-profit organization at the top. Altman resigned as director at another company to devote all his time to OpenAI as CEO.
ChatGPT attracted a huge number of users in 2022, when the program became available to the general public. It ensured that OpenAI is on track to reach annual revenues of $1 billion by 2023.