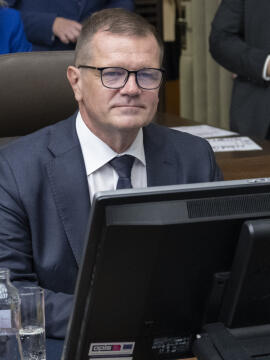 Implementing efforts to break the recovery plan milestones agreed by the European Commission would delay funding and complicate implementation and project intentions. Therefore, the principle of continuity must be observed. This was stated on Tuesday by the Deputy Prime Minister of the Slovak Republic for the Recovery and Resilience Plan and the use of European funds, Peter Kmec (Hlas-SD), as part of the Autumn ITAPA conference.
"With new governments, we always introduce something new and try to start from scratch. In the case of long-term projects, it is suicide, as we are not able to spend the money effectively. We must therefore find a balance, because the recovery plan is a tool, not a goal," explained Kmec. He stated that the phase of finalizing the main reform elements is currently underway. Currently, according to him, it is necessary to look at how to start spending these funds effectively, which also concerns crisis management.
Duplication of funding is also a problem
"I am trying to talk to all the departments so that they present the real state of the projects because several challenges have already taken place and we have to see if they are really feasible. We have agreed in the government that we will give a regular deduction on a weekly basis," he added. According to Kmec, a big problem from the EC's point of view is the duplication of funding, which is monitored by the coordination committee in Slovakia. As he stated, one of the reasons for delaying some calls is waiting for the implementation of the calls within the Slovakia Program.
"Now we have to depoliticize these processes and focus on exhausting these enormous funds. From an investment point of view, only European sources are on the table. Resources from the state budget will be minimal. We have to get these funds to the regions," added Kmec.
Slovakia lags behind in digitization by ten years
According to the Deputy Prime Minister of the Slovak Republic, Slovakia is ten or more years behind in digitization. "Slovakia suffers in some parts from insufficient introduction of high-speed Internet. It's pointless to talk about digitized services unless all citizens have them at home," he added.
At the conference, he also stated that together with the Minister of Education Tomáš Drucker (Voice-SD) and the Minister of Economy of the Slovak Republic Denisa Sakova (Voice-SD) they are on the same wavelength as regards the continuation of the innovation policy and the promotion of the national strategy.
"Their task is to clean up the grant distribution schemes of various agencies, because there are dozens of agencies with low efficiency of funds," added Kmec, adding that the goal is to create two agencies, a grant agency at the Ministry of Education and an investment agency at the Ministry of Economy.