Red Sox
From team legends to one-year rentals, the Red Sox are well-represented on this year's ballot.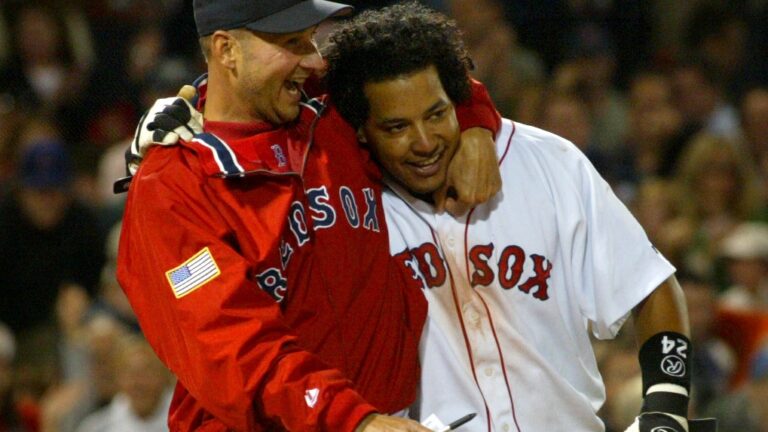 The 2024 MLB Hall of Fame Ballot was released on Monday, and Red Sox fans are sure to recognize many of the names on that list.
Headlining this list of talented Red Sox players is outfielder Manny Ramírez, the only returning candidate on the ballot to play in Boston. Ramírez is one of the most widely-respected figures in Red Sox history, as he helped them win the World Series in 2004 and 2007.
Ramírez played in Boston from 2001-2008, and he batted .312/.411/.585 with 274 home runs and 868 RBIs while he wore a Red Sox jersey. In that eight-year stretch, he won six straight Silver Slugger Awards (2001-06), made the All-Star Game in each full season he spent in Boston, and finished as high as third place (2004) in MVP voting.
This is Ramírez's eighth year on the ballot, mainly due to his reported use of performance-enhancing drugs during his playing career.
In addition to Ramírez, five former Red Sox players appear on the Hall of Fame ballot. These five players are making their ballot debuts this year, allowing writers the opportunity to vote for them for the very first time.
Adrián Beltré signed a one-year contract with the Red Sox in 2010, which began what was arguably the best season in his career up to that point. He made his first All-Star appearance, won a Silver Slugger Award and finished ninth in MVP voting after a season in which he batted .321/.365/.553 with 28 home runs, 102 RBIs and an MLB-leading 49 doubles.
Like Beltré, first baseman Adrián González arguably played the best baseball of his life at that point in a Red Sox uniform. González was traded to the Red Sox after the 2010 season ended, and he finished the 2011 season batting .338/.410/.548 with 27 home runs, 117 RBIs and an MLB-leading 213 hits. It was the most decorated season of González's career, as he made his fourth All-Star team, won both Gold Glove and Silver Slugger awards and finished seventh in MVP voting before the season ended.
Despite his accomplishments, González played just another half-season in Boston, batting .300/.343/.469 with 15 home runs and 86 RBIs before he was traded to the Los Angeles Dodgers in August 2012. 
Infielder Brandon Phillips finished his long MLB career with the Red Sox in 2018, the year they won the World Series. Phillips only played in nine games with the Red Sox and is remembered more fondly for his time in Cincinnati, but he's known throughout Boston as being the first person in franchise history to wear No. 0 and for his go-ahead home run in the ninth inning against the Atlanta Braves on Sept. 5 of that year.
Catcher and first baseman Víctor Martínez was acquired from the Cleveland Indians at the 2009 MLB Trade Deadline, and he finished that year batting .336/.405/.507 with eight home runs and 41 RBIs in a Red Sox uniform. Martínez made the All-Star team the following year and batted .302/.351/.493 before signing with the Detroit Tigers that winter.
Pitcher Bartolo Colón played with the Red Sox in 2008, pitching to a 3.92 ERA and a 1.385 WHIP in seven starts before the Red Sox suspended him for leaving the team to go to the Dominican Republic without returning. Colón is most known for his accomplishments with other teams he played for in his long career, including winning the Cy Young Award while pitching for the Anaheim Angels in 2005.
Sign up for Red Sox updates⚾
Get breaking news and analysis delivered to your inbox during baseball season.