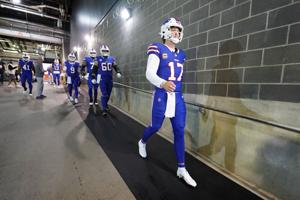 Buffalo Bills offensive coordinator Ken Dorsey knew exactly what he was walking into Thursday morning for his weekly press conference. Three days clear of the season-opening loss to the New York Jets lowlighted by quarterback Josh Allen's four turnovers, it was time to discuss why his same, old, tired, frustrating and maddening habits had resurfaced.
Dorsey talked about playing "smart not conservative football," before pivoting to his main point.
"At the end of the day, I have a ton of trust in Josh Allen," Dorsey said. "A lot of trust in him and who he is and who he's about and the type of player he is. We'll continue as a coaching staff to coach every single player on this team, whether it's Josh (receiver) Stef (Diggs), the (offensive) line, (center) Mitch Morse. All of these guys want to be coached and want to learn."
The Bills should have been hellbent on making this A Learning Week … or else. Learn from the interceptions and the Bills will beat Las Vegas in Sunday's home opener at Highmark Stadium. Learn from the mistakes defending the run and they will be 1-1. Learn from the special teams errors that led to allowing a punt return touchdown in overtime and they will avoid uh-oh-and-2.
But it starts with Allen.
Allen must rebound like in 2019, when he won at Tennessee after throwing three interceptions at New England and the 2021 season, when he beat the Jets after throwing three interceptions in a win over Atlanta.
"Josh is extremely resilient and has been through this experience before in terms of having to reset after a game like (last week)," coach Sean McDermott said. "That's what I expect him to do."
So has the relitigation about Allen and the offense/Bills in general been blown out of proportion? A look at the issues with the verdict – overrated reaction, properly rated reaction or underrated reaction?
Allen misses Daboll
Brian Daboll was the Bills' offensive coordinator for Allen's first four years (2018-21) and deserves credit for Allen's development.
A convenient narrative is Allen's play has dipped since Daboll left to become the New York Giants' head coach.
First, Dorsey was Allen's quarterbacks coach for three years so he was carrying out Daboll's instructions – he didn't reinvent the wheel when he was promoted to offensive coordinator before last year.
Second, the statistics debunk the theory.
2021: The Bills went 11-6 and finished fifth in yards (381.9), second in points (28.4) and seventh in red zone touchdown rate (62.3). Allen had 36 touchdowns, 15 interceptions, a 63.3 completion rate and 92.2 passer rating.
2022: The Bills went 13-3 and finished second in yards (397.6), second in points (28.4) and ninth in red zone touchdown rate (60.3). Allen had 35 touchdowns, 14 interceptions, a 63.3 completion rate and 96.6 passer rating.
Dorsey remains a regular presence in the quarterback room.
"When guys make mistakes, we talk about it and we coach it," he said.
Verdict: Overrated reaction. Daboll is gone, folks. Move on.
Allen must be smarter
Remember those words Allen used throughout the offseason and training camp about being smarter about when to subject himself to punishment as a runner? White noise.
The Bills were smart in limiting Allen's designed runs, but now it's up to Allen to make better decisions when scrambling.
Against the Jets, he converted a third-and-2 (six yards) but could have easily slid or run out of bounds. On third-and-13, he gained seven yards and should have protected himself better. And he gained seven yards on first-and-10 and took on two defenders.
"He's competitive – I know that, and we all know that," McDermott said. "You see it on full display every weekend. Those are conversations (about sliding) that have been had and will continue to take place and at the end of the day, he has to do it because I'm not out there running the ball or throwing the ball."
Verdict: Properly rated reaction. Allen scrambling in a reckless manner is a figurative ticking time bomb.
Bills stunk on first down
The Bills averaged 3.7 yards per first-down snap against the Jets, which ranked 27th in the NFL.
On 28 true first-down snaps (not including a late-game, clock-stopping spike), the Bills gained three or fewer yards or turned it over on 15 plays (53.5%), not including a fumble. All five of their allowed sacks came on first down.
The Bills gained 25 rushing yards on first-and-10 – 28th in the league.
Dorsey said the Bills classify first-down plays and plays of 1 to 6 yards to go on second down as "green" scenarios.
"Everything's on the table; you've got the ability to run your whole gamut (of plays)," he said.
Needing at least seven yards on second down is a "red" situation.
"In those 'green' areas, the defense isn't thinking, 'Pass, pass, pass,' and we still have the threat of running it," left guard Connor McGovern said. "We were hurting ourselves. We just need to stay in that 'green' area."
Verdict: Underrated reaction. If the Bills don't stay on schedule Sunday, that invites pass-rush pressure from the Raiders' Maxx Crosby.
Too many outside throws
Per NFL's Next Gen Stats, only two of Allen's 29 completions were between the hash marks and expanding the completion zone; much of his work was outside the numbers.
"We were getting a lot of shell coverage, a lot of top-down coverage," Diggs said. "(The offense) wasn't as exciting as people would like it to be, but it was efficient."
Diggs is right in that it wasn't flashy … but it wasn't really efficient, either.
The Bills averaged only 4.6 yards per snap and had only five explosive plays – rushes of at least 12 yards and passes of at least 16 yards (three rushes/two passes). Last year, they averaged 8.3 in 18 regular season/playoff games, including 5.5 passes.
Verdict: Underrated reaction. Running the football better would entice defenses to drop a safety closer to the line of scrimmage and open up the intermediate-to-deep passes over the middle.
Trusting pass protection
According to The News' game charting, the Jets rolled up 18 "disruptions" – five sacks, three hits and 10 pressures (right tackle Spencer Brown was booked for five disruptions and McGovern for two sacks). Allen did well to escape the heat on several drop-backs to run for yards or throw completions.
A positive from Week 1 is he willingly checked the football down – eight completions for 46 yards when shifting his eyes to the flats for his final option.
Concerning, though, was when Allen left the pocket even though the protection was holding up. That must change.
Verdict: Underrated reaction. Allen's best chances at explosive plays is hanging tight in the pocket.
Miami is division favorite
The Dolphins-Chargers tape looked like it was on fast forward compared to the plodding nature of Bills-Jets.
Miami rolled up 536 yards in its 36-34 win and its 17 plays of at least 15 yards were the most by any team in a game since 2011.
The Aaron Rodgers-less Jets (1-0) visit Dallas and New England (0-1) hosts the Dolphins on Sunday. An opening for Miami to win its first AFC East title since 2008?
Verdict: Overrated reaction. Yes, it gets late early in this league, but let's tap the brakes.
Sunday is must-win game
Since 1970, only 39 of 405 teams that started 0-2 made the playoffs (9.6%), according to Pro Football Reference's Stathead search tool. Only 14% of the teams finished with a winning record, 0.9% reached the Super Bowl and 0.7% won the Super Bowl.
Dallas (1993), New England (2001) and the New York Giants (2007) won the Super Bowl after starting 0-2. The Patriots lost to Green Bay in '96.
The Bills have 21 0-2 starts in franchise history. They finished with a winning season only five times, made the playoffs only twice (1966 and '98) and didn't win a postseason game.
They need to turn the page. Quickly.
"That was the first game and now we're ready for the next game," nickel back Taron Johnson said. "You experience losses at every level and the coaches have the same kind of mindset – you can't bring that loss into the next week."
See why Sunday is so important?
Verdict: Underrated reaction. The data suggests it is a must-win.
Reach Ryan at [email protected] or 716-849-6133. Follow on Twitter at @ryanohalloran.