The Nations League match at Wembley against England will be the most attended match ever for the Orange Women. The stadium in London, which has a capacity of 90,000, is almost sold out, England national coach Sarina Wiegman told a press conference on Tuesday.
Wiegman said she hopes that the last spots will also be filled. A month ago, around 60,000 tickets had been sold for the match scheduled for Friday, December 1.
The spectator record for a match of the Orange Women is currently the 57,000 of the 2-0 World Cup final loss against the United States in 2019. The Parc Olympique Lyonnais in Lyon was sold out at the time. The most attended match of the Orange Women in the Netherlands was the exhibition match against Australia in June 2019. There were 30,640 spectators in the Philips Stadium in Eindhoven.
England desperately need the support of the fans. The losing World Cup finalist must win the upcoming international match against both the Netherlands and Scotland (December 5) to maintain a chance of participating in the Olympic Games in Paris. England is three points behind the Dutch team.
"It will be a difficult task, but I am really looking forward to the next period," Wiegman said on Tuesday. "We are always under pressure due to external expectations. But the team will be looking for a good result, just like me."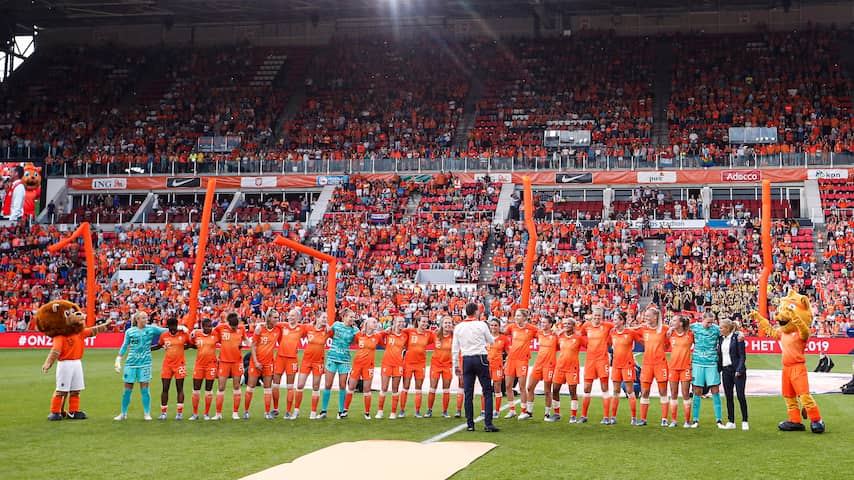 The Dutch team leads group A
The last three times European champions England played at Wembley it was sold out. Last year, there were around 90,000 fans in the stands during both the European Championship final against Germany and the practice match against the United States.
There was also plenty of interest in the match against Brazil in April this year. England won all three matches.
England vs. Netherlands starts at Wembley on Friday, December 1 at 8:45 PM (Dutch time). Four days later, the Dutch team, which is at the top, closes the group with a match in Tilburg against Belgium. Only the group winners advance to the final round. A place in the final is good for an Olympic ticket.
Group A
Netherlands 4-9 (+5)

Belgium 4-7 (+1)

England 4-6 (0)

Scotland 4-1 (-6)