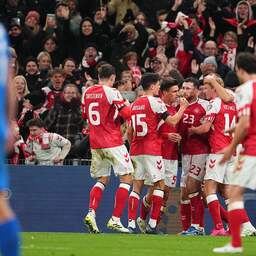 Nov 17, 2023 at 8:23 PM Update: 2 minutes ago
Denmark and Albania qualified for the European Championships in Germany on Friday. The Danes only needed a home win over Slovenia (2-1) and the Albanians needed a 1-1 draw against Moldova. Poland was sentenced to the play-offs after a draw against the Czech Republic.
Both Denmark and Slovenia were able to qualify for the European Championships with a win on Friday. Joakim Maehle put the Danes in Copenhagen at 1-0 in the 74th minute with a striking strike, after which Erik Janza made it 1-1 for the visitors with a beautiful free kick.
Thanks to a goal from Thomas Delaney, Denmark won the match and the European Championship ticket. The 1992 European champion qualifies for the second European Championship in a row. During the European Championship played in 2021, the team reached the semi-finals, in which England (2-1) was too strong.
Slovenia and Kazakhstan will decide which country will go to the European Championship in a head-to-head battle in Ljubljana on Monday. The Kazakhs won 2-1 against San Marino earlier in the day and are one point behind Slovenia.
If Kazakhstan wins on Monday when it visits Slovenia, that country will qualify for a final tournament for the first time in its history. One point is enough for the home country.
Czech Republic hurts Poland, Albania to European Championship
In Warsaw, Poland and the Czech Republic did not get further than a 1-1 draw. As a result, the Poles, who had to win, have no chance of direct qualification for the tournament in Germany. The play-offs in March do offer a way out for Poland, which qualified for the last four European Championships.
Jakub Piotrowski gave the Poles hope with his opening goal, but West Ham United midfielder Tomas Soucek set the final score at 1-1 four minutes after half-time. For the Czechs, FC Twente midfielder Michal Sadílek was in the starting line-up and Feyenoord midfielder Ondrej Lingr came in.
The draw was not enough for the Czech Republic for European Championship qualification. However, a draw against Moldova on Monday is enough for the country to qualify for the European Championship. If the Moldovans perform and win in Prague, they will qualify for the tournament in Germany.
In the same group, Albania qualified for the European Championship earlier in the evening, thanks to a 1-1 draw in and against Moldova. Sokol Çikalleshi gave Albania the lead in Chisinau on Saturday. Vladislav Babohlo scored Moldova's equalizer in the final phase.
It is the second time in history that Albania has gone to the European Championship, after its debut in 2016. The country was eliminated in the group stage at the time. The Brazilian Sylvinho, former Arsenal and FC Barcelona player, is national coach of Albania. The country is 59th in the FIFA rankings.